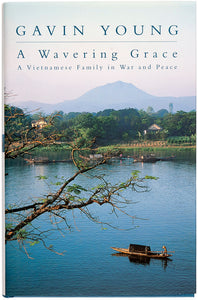 YOUNG, Gavin. A Wavering Grace: a Vietnamese Family in War and Peace. Viking. 1997.
8vo., original cloth with dust wrapper. A fine copy.
First edition. "Gavin Young first visited Vietnam in 1965 at the time of the American invasion. He was to spend most of the next ten years there as a reporter for the Observerr, but also as a kind of honorary citizen and adopted son, forming unusually close ties with the 'delightful, infinitely patient Vietnamese people' and with one family in particular...In a Wavering Grace one of our most distinguished travel writers offers us an unusual and affecting memoir, a unique view of a tragic land. It is the tale of one man's relationship with a people and a place, but even more it is the tale of one indomitable family, whose own lives read like a chronicle of twentieth century Vietnamese history."
#2076853