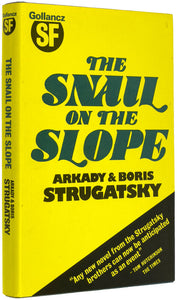 STRUGATSKY The Snail on the Slope London, Victor Gollancz, 1980.
8vo. Original blue cloth, title gilt to spine, with yellow printed dust wrapper; pp. vi, 243; very good, a little fading to cloth along spine.
First UK edition. A novel with a complicated history, the Snail on the Slope has appeared in various forms and fragments across its publishing history. Following two plots as the protagonists each navigate their way through bureaucracy and a literal forest respectively, the novel is a fascinating discourse on the nature of perception, and a soviet science fiction classic. In his memoir Comments on the Past Boris Strugatsy reflected how The Snail on the Slope was 'the most perfect and the most valuable' of their works.
The Strugatsky Brothers, Arkady and Boris, published many highly acclaimed works of science fiction, mostly in the latter half of the 20th century. Though the works were largely printed in Russian originally, many were later translated into English, German, French and Italian.
#2117619