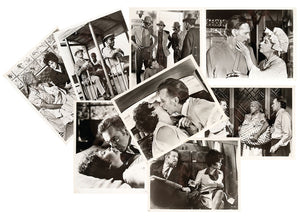 GREENE, Graham. The Comedians. Collection of 19 vintage black-and-white single weight reference photographs from the UK release of the 1967 film. Beverly Hills, CA: Metro-Goldwyn-Mayer [MGM], 1967.
8 x 10 inches. 19 photographs. Stills have tiny pinholes (some multiple) at the corners, and light wear at the extremities, one photograph with reapired chip to lower edge, otherwise in very good condition. The notations on the verso of each photograph have been crossed through in black marker.
The last of 5 screenplays written by Graham Greene, 4 of which were adapted from his novels. British director Peter Glenville signed on for the production, which was co-produced by the US and France. The fourth of 10 films starring both Richard Burton and Elizabeth Taylor, and a role for which Taylor cut her normal $1 million salary in half when Glenville told her Sophia Loren had been offered the part.
The images include 3 photographs of Burton and Taylor in amorous clinch.
#2071159