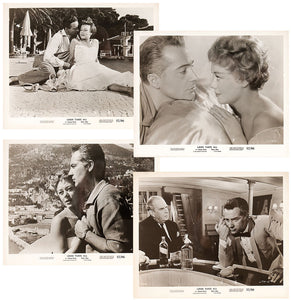 GREENE, Graham. Loser Takes All. Collection of 5 stills from the 1956 film Independent Film Producers / Distributor's Corporation of America, 1956.
8 x 10 inches. 5 vintage black-and-white single weight still photographs from the US release of the 1956 British film.
The fourth of 7 screenplays written by Greene, and his third adaptation of his own work. An unusual foray for the author, a late screwball comedy in which a mild mannered assistant accountant, in the midst of his honeymoon, becomes tangled up in a mess involving a casino and two very canny businessmen. Starring Glynis Johns, Rossano Brazzi, and Robert Morley.
#2071163