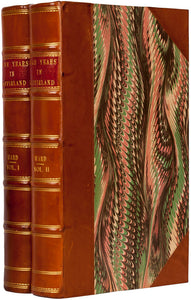 WARD, Harriet. Five Years in Kaffirland; with Sketches of the Late War in that Country, to the Conclusion of Peace. Written on the Spot. London, Henry Colburn, 1848.
Two volumes, 8vo. Modern tan half-calf over marbled boards, spines with raised bands, ruled and lettered in gilt, red morocco lettering-pieces; pp. xi, 306, 24 (advertisements); vii, 352, 1 (advertiesements), two frontispieces in lithography, one lithographic map; light offsetting from frontispieces; otherwise only lightly and evenly toned; a very good set; provenance: stamp of the Sons of England Patriotic & Benevolent Society. Historical Research Committee in upper margin of p. iii in volume one.
First edition of a rather uncommon title. 'An account of the War of the Axe written by the wife of an officer with the 91st Regiment' (Mendelssohn). The Wards, Harriet and John, travelled out on the Abercrombie Robinson, surviving her wreck in Algoa Bay. In his History of South Africa Since September 1795 Theal remarks of this book that 'The leading events of that war are faithfully described, and a correct view is given of the occurrences that led to it. Much sympathy is displayed for the suffering colonists, though as to the ill-feeling between the Burghers and the soldiers the part of the latter is decidedly taken' (p. 410). Harriet Ward, born on Barbados in 1808, was one of the formemost published women writers on South Africa, with short stories and one novel. She recently attracted the attention of academic writers dealing with race, gender and colonialism, and indeed, her writing is lively, informative and opinionated, a prime source for the history of South Africa, and especially the Eastern Cape Province.
Howgego II, S37; Mendelssohn II, p.582.
#2094704