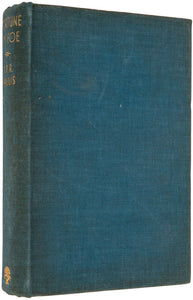 WALLIS, J. P. R. Fortune My Foe, The Story Of Charles John Andersson, African Explorer (1827 - 1867). London, Jonathan Cape, 1936.
8vo. Original blue cloth, spine lettered in gilt; pp. 412, map endpapers, plates ; light darkening to cloth, intenally a little spotted and with old pencil annotations to endpapers, coolector's stamp to front endpaper.
First edition. This is the account of the foremost exlorer of Namibia in the 19th century. The Swedish hunter, naturalist, and traveller settled with his wife in Otjimbingwe (in modern central Namibia).
#2112455