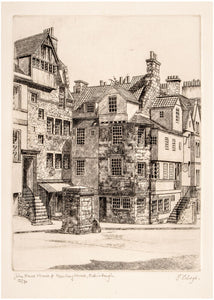 THEYS, Freddy. John Knox House and Moubray House, Edinburgh.
Original contemporary copper plate etching, signed by the artist, edition 12/70, 2004. 260 x 195 mm.
Moubray House, 51 and 53 High Street, is one of the oldest buildings on the Royal Mile, and one of the oldest occupied residential buildings in Edinburgh, Scotland. The façade dates from the early 17th century, built on foundations laid c.1477.
#2115075