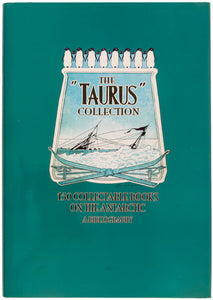 MACKENZIE, Julian, Lisa MILTON, and Richard KOSSOW. The Taurus Collection. 150 Collectable Books on the Antarctic. A Bibliography. London: De Montfort Press for The Travellers' Bookshop, 2001.
4to. Original boards, spine lettered in gilt, map endpapers, dustwrapper; pp. x, 197, colour-printed illustrations, many full-page; fine.
First edition, limited to 500 copies. A most useful guide to primary Antarctic literature, with exeptionally fine examples of each work illustrated. The notes give information concerning issue points (distinguishing variants where relevant), rarity, and bibliographical references.
#2106045