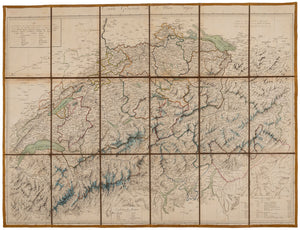 SWITZERLAND - Carte générale de l'atlas Suisse. Levé et dessiné par J. H. Weiss, gravé par Guerin et Scheurman. Aarau, J. R. Meyer, [c. 1802].
Engraved, dissected, linen-backed and folding map with hand-colouring of glaciers and outlines of borders, measuring 55 by 73 cm; bordered with gold ribbon, covering imprint engraver's names, a few minor spots; a decorative and rare map; in the contemporary, slightly worn slip-case.
This is the general map of Switzerland from the Meyer-Weiss Atlas, the first Swiss cartographic work produced along rigorous scientific guidelines. 'The Atlas Suisse (1796-1802) compiled by Johann Rudolf Meyer, Johann Heinrich Weiss and Joachim Eugen Müller is one of the precursors of modern cartography in Switzerland' (University of Bern, online).
#2118746