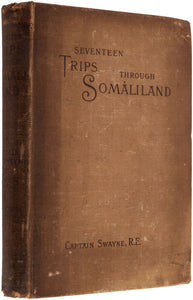 SWAYNE, Captain H.G.C. Seventeen Trips Through Somaliland. A Record of Exploration & Big Game Shooting from 1885 to 1893; Being the Narrative of Several Journeys in the Hinterland of the Somali Coast Protectorate. London, Rowland Ward and Co., Limited, 1895.
8vo. Original tan buckram, lettered in dark brown; pp. xx, 386, [2, advertisements]; portrait frontispiece of the author with tissue guard, 42 other plates and illustrations, 3 maps on 2 folding sheets at rear; binding darkened as usual and with wear (restored), one map with short marginal repair, internally very good, bibliographic notes in a neat hand in pencil to verso of front fly-leaf.
Uncommon first edition. 'An excellent game shot, Swayne describes his seventeen journeys into Somaliland's interior from 1884 to 1893. He hunted elephant near the Golis Range, Jallo, and the Sobt River in 1887. Five years later, while on reconnaissance near theAbyssinian border, he bagged rhinoceros near Tœli. In 1893, Swayne collected leopard and oryx while journeying to Harar. Later, near the Webbe Shebleh River, he hunted rhino, lion, leopard, and elephant… On a second journey to the Webbe Shebleh, he bagged bushbuck, leopard, and lion. An important work of sport and exploration' (Czech). The volume opens with chapters on the ethnography and history of Somalia, with notes on the society and nomadic life, including internal conflicts.
Czech pp. 161-2.
#2110332