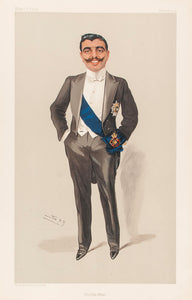 "SPY" [Sir Leslie Ward]. The Aga Khan. "The Aga Khan."
Original lithograph from the 'Vanity Fair' series, published November 10, 1904. 395 x 265 mm.
Sir Sultan Muhammed Shah, Aga Khan III GCSI GCMG GCIE GCVO PC (2 November 1877 – 11 July 1957) was the 48th Imam of the Nizari Ismaili community. He was one of the founders and the first president of the All-India Muslim League (AIML). His goal was the advancement of Muslim agendas and protection of Muslim rights in India.
He was also an owner of thoroughbred racing horses, including a record equalling five winners of the Epsom Derby (Blenheim, Bahram, Mahmoud, My Love, Tulyar) and a total of sixteen winners of British Classic Races. He was British flat racing Champion Owner thirteen times.
There is a small tear to centre and extreme right edge which has been restored.
#2099092