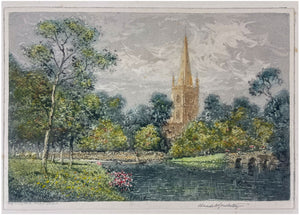 ROWBOTHAM, Claude Hamilton. Holy Trinity Church, Stratford-upon-Avon.
Original etching and aquatint with hand-colour, signed by the artist, c.1920. 150 x 225 mm.
Claude Hamilton Rowbotham (1864 - 1949) was born in Kensington, being the youngest of eight children from an artistic family with his father Thomas Charles Rowbotham being a talented watercolour artist.
#2117484