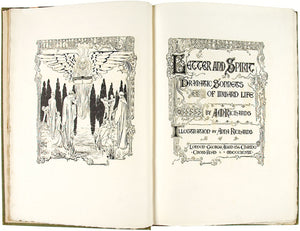 RICHARDS, Anna M. Letter and Spirit. Dramatic Sonnets of Inward Life. George Allen. 1898.
Small folio, original green cloth lettered in gilt on spine and upper board. Each sonnet reproduced from Richards's calligraphy with an accompanying black and white illustration. Head of spine a little rubbed otherwise a very good copy.
First edition, limited to 300 copies.
Anna Matlack Richards was married to William Trost Richards, a successful pre-Raphaelite painter who was an admirer and acquaintance of John Ruskin. At the time of her marriage to Richards in 1856, however, Anna Matlack had already earned a reputation as a successful poet and playwright. She and her husband eventually had eight children, including the artist Anna Richards Brewster, settling after extensive travel abroad, in Newport, Rhode Island. Richards published a sequence of sonnets in 1881 entitled Dramatic Sonnets and another, as offered here, in 1898, Letter and Spirit In the 1890s she published comic poems for children in children's magazines such as Harper's Young People and St. Nicholas magazine and, in 1895, A New Alice in the Old Wonderland, an expanded version of the stories she had invented years before for her children about their favourite fantasy heroine. (This biography comes from Alternative Alices: Visions and Revisions of Lewis Carroll's Alice Books: An Anthology, ed. Carolyn Sigler (Louisville: University Press of Kentucky, 1997).
#330002