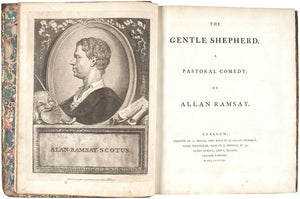 RAMSAY, Allan. The Gentle Shepherd, A Pastoral Comedy. Glasgow. A Foulis. 1778.
Royal 4to., in contemporary full mottled calf, boards with elaborate gilt panels with corner tools, rebacked preserving original rich gilt spine, contrasting red leather label, all edges gilt. Aquatint portrait frontispiece and 12 aquatint plates engraved by David Allan, pp.18 of engraved music at rear. Corners rubbed, a little light browning to margins of plates, neat ink name dated 1848, generally a very good crisp copy.
"Ramsay's play, The Gentle Shepherd first published in 1725, enjoyed massive success both in his lifetime and for several years after his death. This Scots pastoral drama is an entirely original creation, which develops the pastoral genre and fixes it within a Scottish context. Although the play belongs to the sentimental age, its value remains to this day: Ramsay presents his audience with skilful sections of lyric and song, and daringly attempts to revive the Scottish theatrical tradition under the strict codes of Calvinism. The Gentle Shepherd helps make possible John Home's Douglas, Fergusson's Scots pastorals and much of Burns's work."
The Foulis Press first published The Gentle Shepherd in 1743, and they printed it again in 1745, 1747, 1750, and 1752, before issuing this handsomely printed and illustrated edition in 1788. David Allan who illustrated this edition was sometimes called the "Scottish Hogarth"
#2060097