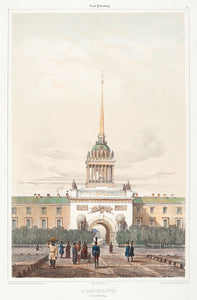 RAFFET, Denis Auguste Marie. Saint Petersbourg. L'Amirauté, (12 Juillet 1839). [Paris]: Gihaut Frères, [c. 1840].
Hand-coloured tinted lithograph after Raffet, printed by Auguste Bry, 533 x 342mm; slightly creased at edges andwith short tear, otherwise a very good, professionally cleaned and fresh example.
This is a plate issued in the very rare work by André Durand, Voyage pittoresque et archéologique en Russie: exécuté en 1839 sous la direction de M. Anatole de Démidoff (1840-47). The standard issue of this monumental work was not coloured, this plate comes from the coloured de luxe issue, printed on high-quality linen rag wove paper. The Admiralty building is one of St. Petersburg's most conspicuous landmarks and was designed in finest Russian Empire style by Andreyan Zakharov.
#2071001