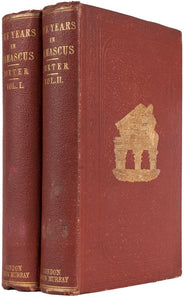 PORTER, Josias Leslie. Five Years in Damascus … With Travels and Researches in Palmyra, Lebanon, the Giant Cities of Bashan and the Hauran. London, Murray, 1855.
Two volumes, 8vo. Original orange ribbed cloth, spines lettered in gilt, front covers with architectural detail stamped in gilt, turquoise endpapers; pp. x, [2], 395; vi, 372, wood-engraved frontispiece, folding plan, wood-engraved illustrations to text, large steel-engraved folding map of the region (from personal survey by the author), outline-coloured and with the author's itinerary in red; apart from light rubbing, near fine.
Very rare first edition, an exceptionally bright copy in the publisher's binding. The author, an Irish Presbyterian missionary points out in the preface, that 'the following work is not a book of travels, penned during a "summer's ramble" or a "winter's residence." It is the result of researches over a period of five years' (p. iii).
'In 1849 Porter was sent to Damascus as a missionary to the Jews by the board of missions of the Irish Presbyterian church. He reached Syria in December 1849, and remained there for ten years. While discharging his duty as a missionary he acquired, by frequent and extensive journeys, an intimate knowledge of Syria and Palestine, which he turned to good literary account. In 1855 he published his first book on the East, Five Years in Damascus (with his own map, plans, and woodcuts), in which he tells most graphically the story of his life there, and of adventurous journeys to Palmyra, the Hauran, Lebanon, and other places' (ODNB). The map shows Porter's relentless travels with different routes between Beirut and Damascus, another journey from Beirut northwards along the coast and then into the mountains, as well his spider web-like movements starting from Damascus, repeatedly to the mountains east of the coast between Beirut and Tripoli and the Anti Lebanon Mountain Range, as well as an excursion to Homs, and to the south and east of Damascus. Porter's topographical, ethnographic and antiquarian research and documentation led him to criticize most books on the region written by earlier Western travellers, apart from Burckhardt, and his map is by far the most accurate of the time.
#2098758