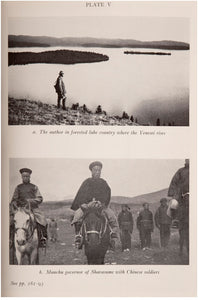 PHILIPS PRICE, Morgan. A Journey in the Upper Yenesei Basin, Outer Mongolia and Chinese Turkestan in 1910; in The Geographical Journal, pp. 181-193, vol. 134, 2, June 1968 in London: The Royal Geographical Society.
8vo (245 x 155mm). Original printed wrappers; pp. i-xii, 181-310; 8 half-tone plates with illustrations on recto-and-verso; sketch maps and diagrams; slightly chipped at the spine ends; otherwise a very good and internally clean copy; provenance: Department of Geography, University of Liverpool (inkstamp to upper wrapper).
Michael Philips Price (1885-1973) was a British Politician and Journalist, educated at Harrow and Trinity College Cambridge. He wrote for the Daily Herald and the Manchester Guardian, where he was their correspondent in Russia from 1914 to 1918. He had travelled extensively in Central Asia, Siberia, Turkey and Persia between 1908 and 1914, spending considerable time in Outer Mongolia and Chinese Turkestan. This article in The Geographical Journal discusses his experiences there and includes some photographs of the area.
#2110606