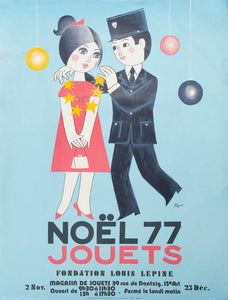 PEYNET, Raymond. (1908 - 1999). NOËL 77 Jouets, Fondation Louis Lépine.
Original lithograph, linen backed, as printed by the Police Technical Services for the annual toy sale in the Préfecture de Police Paris, an event organised by Fondation Louis Lépine in 1977. 660 x 500 mm.
Established in 1950, the Fondation Louis Lépine, (FLL) is a charitable organisation that aims to support the lives of the servicemen and their families. It still is an operational organisation and aids the social engagement of the police force in Paris. This is a poster for an event, printed by police technical services for the annual toy sale, a community outreach event. The Raymond Peynet poster was distributed to public spaces in Paris.
#2086657