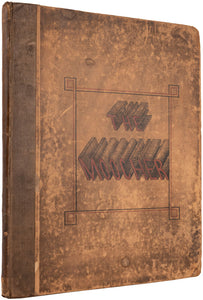 PEARS, Edmund R.; Frederick W. I. Airey; Frank H. Peyton. The Moocher. Privately printed: Photo-lith by C. F. Kell, Castle St. Holborn, [c. 1880].
Small 4to. Quarter brown cloth over paper boards; front board printed in burgandy and black; pp. [iv], 88; text lithographed from handwritten issues; with numerous illustrations by Airey; rubbing to cloth spine and boards, especially at extremities; free endpapers have been trimmed; internal hinge of upper board expertly repaired; a discolouration to title, with light even toning to paper stock, a good copy of this incredibly rare newsletter published aboard the Navy ship Minotaur.'
First edition. The 'Minotaur' Monthly Moocher, a small on-board publication of a newsletter. This volume contains the lithographed text from the hand-written issues distributed on-board, running from October 1879 to April 1880. This privately-printed collection of the journals contains an abundance of wit and quips, including an article titled The Gunroom Alphabet: 'D stands for Dillon, he's fond of his duff, no posterior to speak of, but plenty of 'fluff' (p. 58).
HMS Minotaur was the lead ship in the Minotaur-class of iron-clad armoured frigates and was launched in 1863. Pears and Peyton were midshipmen, while Airey was a clerk.
#2114583