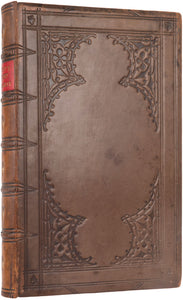 PARROT, Dr. Friedrich. Journey to Ararat. Longman, Brown, Green, and Longmans, [1845].
8vo. Full brown calf, elaborately tooled in blind to sides, spie with raised bands, gilt cenre tools and red morocco gilt lettering piece, all edges red; pp. [2], xii, 375, one folding map of Circassia, Georgia, and Armenia, wood-engravings in the text; very good , internally very clean indeed. Provenance: flylead isncribed by Robert Alexander Kinglake to "George William Vidal, from his affectionate friend… on his leaving Eton, Easter 1861". Vidal became a civil servant in India where he made important contributions to natural history. He collected bird and snake specimens, and had subspecies of quail and kingfisher named after him. He was also a badminton champion who introduced the sport to India.
First edition in English (a US edition appeared the following year) of an account of the first ascent of Mount Ararat, made in 1829-30 shortly after the Caucasus came into Russian possession after the Russo-Turkish War of 1829-30. Parrot also provides detailed descriptions of Armenia and Georgia, with all their ethnic minorities, including Circassians. Parrot had travelled extensively in the Caucasus as early as 1811. He descended from a German protestant family established in Russia.
Atabey 925 (no publisher's binding); Neate P13.
#2116126