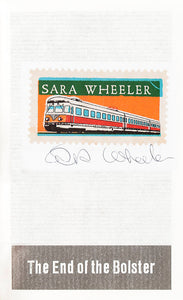 a herculean celebration of travel writing - for charity
OXFAM. Ox Travels. Meetings of Remarkable Travel Writers. Introduced by Michael Palin. Edited by Mark Ellingham, Peter Florence and Barnaby Rogerson. London, MPG Biddles for Profile Books, 2011.
8vo (197 x 127mm). Original dark-blue cloth by MPG Biddles, upper board with impressed panel lettered in white, spine lettered in white; pictorial endpapers; red cloth slipcase; yellow fabric marker; pp. 432; portrait frontispiece of Michael Palin and full-page portraits of the authors before each piece; fine.
First edition, limited edition of 250 numbered copies, this one of 100 special copies signed by the contributing authors on colour-printed 'bookplate stamps' designed by artist Sroop Sunar, tipped in before their contribution (sadly, Patrick Leigh Fermor died during the production of the book -- in place of his signature are the dates '11/2/1915 - 10/6/2011'); Sunar's designs are then incorporated into the pictorial endpapers. As Michael Palin states in his preface, 'Gathered here, for the benefit of Oxfam and its work, are a series of vivid accounts of people and places which not only show the wonder of the world but also the wealth of fine travel writers working today. The theme behind each contribution is, quite loosely, meetings, or to put it more poetically, encounters' (p. 9).
Ox Travels brings together pieces by some of the leading contemporary travel writers, ranging from canonical figures such as Patrick Leigh Fermor to younger writers, and the contributions comprise:
Nicholas Shakespeare Return of the Native;
Sonia Faleiro Madam Say Go;
Paul Theroux The Monk's Luggage';
Peter Godwin Blood Diamonds;
Ruth Padel Arifin;
William Dalrymple The Nun's Tale;
Oliver Bullough The Last Man Alive;
Lloyd Jones The Penguin and the Tree;
Victoria Hislop Manoli;
John Julius Norwich Costa;
John Gimlette The Other World;
Dervla Murphy Three Tibetans in Ireland;
Jason Webster Rafaelillo;
Shehan Karunatilaka The Piece of String;
Sara Wheeler The End of the Bolster;
Hugh Thomson Encounter in the Amazon;
Rory MacLean Love in a Hot Climate;
Jasper Winn A Confederacy of Ghosts;
Aminatta Forna The Beggar King;
Ian Thomson The Fall and Rise of a Rome Patient;
Chris Stewart Cures for Serpents;
Michael Jacobs On the Way to Timbuctoo;
Tifffany Murray Big Yellow Taxi;
Robin Hanbury-Tenison The Orchid Lady;
Raja Shehadeh With Eyes Wide Open;
Janine di Giovanni Decide to be Bold;
Anthony Sattin The Man who Laughed in a Tomb;
Horation Clare A Villain;
Tom Bullough The Zoo from the Outside;
Sarah Maguire Meetings with Remarkable Poets;
Tim Butcher Letting Greene Go;
David Shukman Heat of Darkness;
Jan Morris The Fourth World;
Rory Stewart The Wrestler;
Colin Thubron In Mandalay;
Patrick Leigh Fermor A Cave on the Black Sea.
#2078232