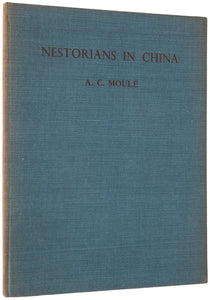 MOULE, Arthur E. Nestorians in China. London, The China Society, 1940.
4to. Original blue cloth; front cover lettered in gilt; pp. 43, frontispiece and text illustrations; extremities a little sunned, half-title minimally spotted, otherwise very good.
Rare first edition of the first publication in the Sinological Series. Moule sheds light on more recently discovered evidence about Nestorians in the 7th and 8th century.
Provenance: from the West London library of the Irish-born administrator and soldier in Burma Maurice Collis (1889-1973) who, after WWI turned to writing: on Burma, China, art, fiction and drama. In Burma, Collis became increasingly critical of the role of the British in examining biased legal verdicts, which privileged Europeans. As a consequence he was banished to the obscure post of Mergui (Myeik), until he retired in 1936 and devoted the rest of his life to writing. The political bombshell was his book Trials in Burma of 1938, which was positively reviewed by George Orwell, who was a friend of Runciman, part of Collis' circle of friends.
#2095598