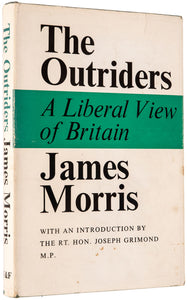 MORRIS, James. The Outriders. A Liberal View of Britain. With an Introduction by The Rt. Hon. Joseph Grimond, M. P. London, Faber, [1963].
8vp. Original cloth with dust-wrappers (not price-clipped); pp. 116; wrappers a little discoloured here and there and with minimal marginal wear; a very good copy, printed on high-quality eggshell paper.
First edition, first printing, review copy with publisher's slip, printed in red and filled in with typewriter loosely inserted. This is James Morris' very rare and openly political book. 'The Outriders is a sketch for a new Britain, written by an independent Liberal, and dedicated to the proposition that flexible and adventurous foreign policies are absolute necessities to the welfare of this State. Mr Morris is a firm supporter of Britain-in-Europe, but believes that within the European community Britain will still have endless opportunities for independent enterprise, insular individualities, and specialist activities' (inside front flap). James Morris donated the royalties from this book to the Liberal Party.
COPAC locates a number of copies in the good and deposit libraries, but none in the National Library of Wales.
#2115881