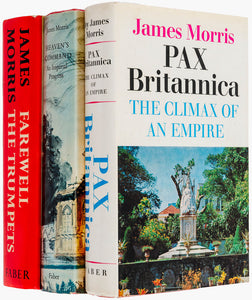 MORRIS, James. The Complete Pax Britannica Trilogy, comprising: Pax Britannica. The Climax of an Empire - Heaven's Command. An Imperial Progress - Farewell the Trumpets. An Imperial Retreat. London, Faber and Faber, [1968-1978].
Three volumes 8vo. Original red buckram with illustrated dust-wrappers, not price-clipped (volume III in original boards), map endpapers printed in three colours; pp. 544; 554; 576; highly illustrated with sketch maps and plates, volume one with bookplate on verso of front fly-leaf, otherwise a near fine set, rarely found together.
First edition of all volumes. A history of the British Empire '… as crowded and animated as the High at rush hour, James Morris packs in history, descriptive reporting, anecdotes, general information' judged The Times (blurb on the wrapper of volume I). 'Among Morris's most notable achievements was the three-volume Pax Britannica, which chronicled the history of the British empire from the earliest days of the East India Company to the disruptive post-colonial years of the 1960s. In 1968, The Times Literary Supplement described Pax Britannica as "a tour de force, offering a vast amount of information and description, with a style full of sensuality." And in the The New York Times Book Review, the British biographer Philip Magnus called it "a successful portrayal of what the Empire looked and felt like in a variety of places at the end of the 19th Century - how it ticked, who pulled the strings, and the practical ends and ideals it served" (Obituary in Vogue by Stuart Emmrich, November 23, 2020, online).
#2118229