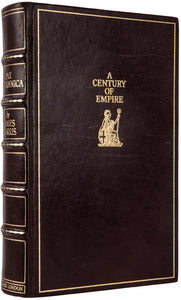 MORRIS, James [by then Jan]. Pax Britannica. The Climax of An Empire. London, Faber and Hallmark, [1980].
8vo. Original gilt-stamped faux leather, all edges gilt; pp. 544, highly illustrated; near-fine.
First published in 1968, this is the middle volume of the Pax Britannica trilogy in a special edition, on better paper. This is the volume with printed dedication to Jan Morris' son Mark (the designer of the dust-jacket for Conundrum), 'tea-time imperialist'.
#2114815