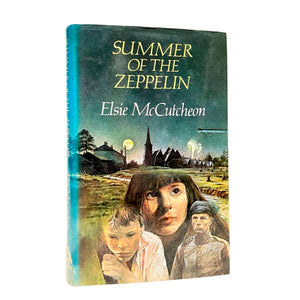 McCutcheon, Elsie (author). Summer Of The Zepplin. London; J.M. Dent & Sons, Ltd. 1983.
8vo.; original olive green linson boards lettered gilt to spine, in pictorial dustwrapper; pp. [vi] + 168; externally and internally fine bar a touch of fading to spine, in a very crisp and bright, unclipped dustwrapper (£5.95) with fading to spine.
First edition, inscribed in ink by the author, "For Alexander, with best wishes, Elsie McCutcheon". McCutcheon's most popular book, which is described in the publisher's blurb as, "a classic novel for the young about the effects of war on one girl, her family and friends". It is centred around a small rural community during the harrowing final days of World War I.
#2101087