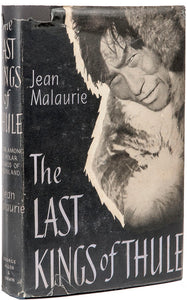 MALAURIE, Jean. The Last Kings of Thule. A year Among the Polar Eskimos of Greenland. London, Allen & Unwin, [1956].
Small 4to. Original cloth and dust-wrapper; pp. 295, errata slip tipped in; black and white photograph plates, numerous figures to text, wrappers with damage, else a very good copy; half-title with 7-line authorial presentation inscription, dated 1993.
First edition in English, from the first French edition of 1955. In 1950, the author documented the effects brought about by the establishment of an American military base in the midst of the Arctic Thule community. With the discovery of oil on their lands, the Inuit people found the challenges of the twentieth century brought to bear on their ancient way of life, and were faced with the transformation of a society which had retained links with ten thousand years of ancestory. Malaurie spent thirty years learning about and living with the Thule Eskimos, and in the present volume presents a unique insight into the assimilation of the modern world into a deeply traditional culture.
#2085796