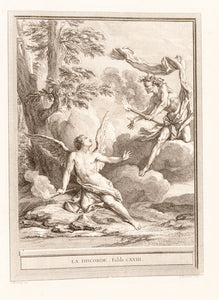 [LA FONTAINE, Jean de.] BREWER, Frances J. The Fables of Jean de la Fontaine. Monograph by Frances J. Brewer. With a Leaf from the Memorial Edition of the Fables Chosies, illustrated by Jean-Bapiste Oudry and Printed in Paris by Charles-Antoine Jombert 1755-59. Los Angeles. Dawson's Bookshop. 1964.
Folio, original wrappers preserved in marbled slipcase. A near fine copy.
Limited edition of 125 copies. This leaf book includes the plate and text for "La Discorde" fron Fable 20. Printed by Saul and Lillian Marks at The Plantin Press.
#2096689