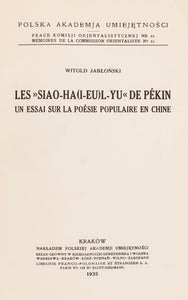 JABLONSKI, Witold. Les "Siao-ha(i-eu)l-yu" de Pékin. Un essai sur la poésie populaire en Chine. Cracow, Polska Akademja Umjejetnosci and Libraitie Franco-Polonaise et Étrangère in Paris, 1935.
8vo. Original printed wrappers; pp. [iv], 193, three fold-out plates of Chinese text; wrappers frayed, internally fine.
Very rare first edition of this in-depth study of Chinese children's rhymes, as one aspect of Chinese popular poetry. Jablonski examines as well how this genre was reflected in Chinese 'high' literature. In the early 1930s the Polish sinologist Witold Andrzej Jablonski (1901-1957) served as advisor of the League of Nations on educational reform in China and taught in Beijing. This book is based on his habilitation at Warsaw University.
#2096979