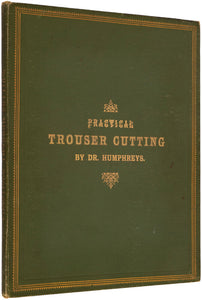 HUMPHREYS, Dr [Thomas Darwin]. Practical Trouser Cutting. An Elucidation of the Complex yet Interesting Subject of Trouser Cutting. John Williamson Company Limited. [1893].
4to. Publisher's green cloth, gilt border to front, gilt lettering to front and spine, patterned endpapers; pp. [viii] +32 + [2] + [18] + 8, 8 plates; a little rubbed to corners, very good.
Sole edition. Scarce. An admirably scientific approach to trousers is recommended: "Many turn out fairly good fitting trousers, but it is more a matter of judgement based upon experience in cutting; while a reliable basis, founded upon true principles, remains to be discovered". Elsewhere, Dr Humphreys had already used his forensic methods to master Critical Coat Cutting and to create the Polytechnic Coat and Vest Systems and the Academy Trouser System.
OCLC shows only three copies at the British Library, the University of Rhode Island and the University of New South Wales.
#2113189