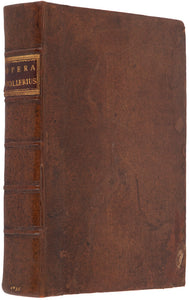 HOULLIER, Jacques. Omnia Opera Practica … Geneva: Petri Chouet, 1635.
Large 8vo. Contemporary speckled calf sometime rebacked in marching calf, spine with brown morocco gilt lettering piece; pp [xxii] + 315 + [19, index]; a little spotting, very good. Provenance: title page with signature of W. Standfast and verso with inscription 'This book belongs to the library in the Charity School Chamber in Nottingham given by Dr. William Standfast'. William Standfast (1683-1754) was Rector of Clifton near Nottingham and the library he founded was notable for its holding of scientific and medical books.
Later edition. Houllier (1504? - 1562) was a French physician who maintained the traditions of Galen and Hippocrates at a time when rivals such as Vesalius were challenging them. He was greatly respected as a translator and interpreter of Hippocrates.
#2110358