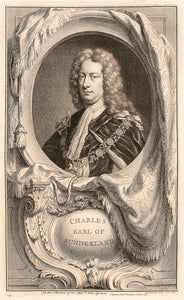 HOUBRAKEN, J. Charles Earl of Sunderland.
Original engraving after the picture in the collection of the Honourable John Spencer, published in the Heads of Illustrious Persons of Great Britain, by Knapton, London, c.1746. 360 x 225 mm.
Sir Charles Spencer, 3rd Earl of Sunderland KG PC (23 April 1675 – 19 April 1722), known as Lord Spencer from 1688 to 1702, was an English statesman.
#2074632