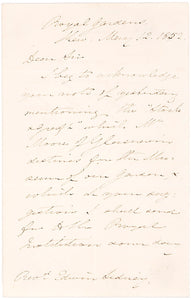 HOOKER, William Jackson. ALS to Rev Edwin Sidney.
9 x 7 inches, folded in half, addressed "Royal Gardens, Kew", dated 12 January 1852.
Hooker is writing in reply to Rev Sidney who had obviously applied to him on behalf of the Royal Institution for some specimens from Kew. His correspondent was a Norfolk clergyman who wrote prolifically for the Religious Tract Society on agricultural matters; his great work was The Philosophy of Food and Nutrition in Plants and Animals (1849). He was also a regular lecturer at the Royal Institution, a correspondent of John Stevens Henslow and a collaborator in Michael Faraday's ozone experiments.
#2076818