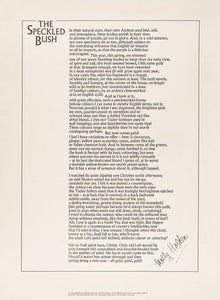 HOLDEN, Molly. The Speckled Bush. London: Poem-of-the-Month Club Ltd, printed by The John Roberts Press Ltd. Copyright 1974.
Broadside, 28.2 x 38cm. A single leaf, unmounted. The odd small crease to edges, otherwise fine.
First edition thus, signed by the poet. Originally published as part of the 'Poem-of-the-Month Club' subscription service, this being from the fourth folio. Also with a single A4 biography sheet published contemporaneously with the poem.
#2103423