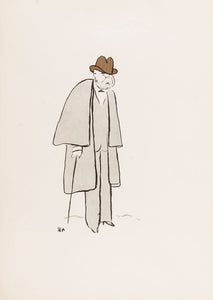 GOURSET, Georges (1863-1934) [SEM]. [Bearded Gentleman].
Original lithograph with pochoir as printed in Paris, c.1900. 520 x 360 mm.
SEM was a famous French caricaturist living in Paris during the Belle Epoque era.
He arrived in Paris in March 1900, at the time of the opening of the Universal Exposition.
He chose to follow horse racing as a way of entry into high society. In June, three months after his arrival in Paris, he self-published a new album, Le Turf, with caricatures of many prominent Parisian socialites including Marquess Boni de Castellane, Prince Trubetskoy, Count Clermont-Tonnerre, Baron Alphonse and Gustave de Rothschild & Polaire amongst others.
#2097609