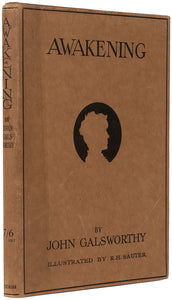 GALSWORTHY, John (author). R.H. SAUTER (illustrator). Awakening. London; William Heinemann. [1935].
4to. Original buff boards decorated and lettered in gilt, green silhouette endpapers, preserved in buff pictorial dustwrapper; pp. [iv], 5-63 + [i]; with a full colour frontispiece and spirited, and detailed line drawings throughout, heightened in green, by Sauter; a fine copy protected by a similarly pristine dustwrapper.
First edition illustrated thus. An interlude, or short story, derived from The Forsyte Saga about the childhood of 8 year-old Jon, or Jolyon, Forsyte.
#2088196