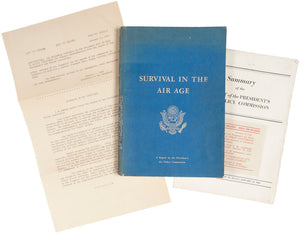 FINLETTER, Thomas Knight. Survival in the Air Age. A Report by the Pesident's Commission Air Policy Commission. Washington, For sale by the Superintendent of Documents, United States Government Printing Office, January 13, 1948.
8vo. Original printed wrappers; pp. ix, 166, a few charts and diagrams in the text, one large folding organigram; a little rubbing to upper hinge, title with tiny portion of corner missing and a little marginal offsetting, otherwise internally good and clean.
First edition. The American lawyer, politician and diplomat Thomas Knight Finletter was asked in 1947 by President Harry S. Truman to establish a temporary, five-man commission that inquired into all phases of aviation and drafted the national air policy report. This commission was known as 'The Finletter Commission'. Finletter served as chairman of the Air Policy Commission which, on January 1, 1948, sent to the president the report entitled Survival in the Air Age; it was actually released on January 13, the 3 being supplied by hand in the space the printer left after the 1 in the date of the imprint.
Together with: A printed in-house publication titled Summary of the Report of the President's Air Policy Commission with the printed line on the front cover reading Not for Release before 6 P. M. (E.S.T.) January 13, 1948, with a slip printed in red pasted onto front cover Hold for Release ... Please guard against premature publication or radio announcement.
Together with: Carbon-copied foolscap sheet containing the text of President Truman's public statement announcing the release of the booklet, pointing out the importance of planning and regulating 'our air establishment, military and civil'.
#2089457