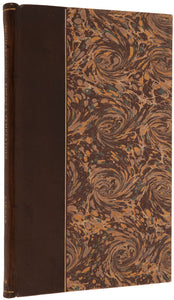 FARMER, Hugh. An Inquiry into the Nature and Design of Christ's Temptation in the Wilderness. London: A Millar, J. Buckland and J. Waugh, 1761.
8vo., newly bound in calf-backed marbled boards; lettering and ruling in gilt direct to spine; pp. viii, 104; some very light creasing along the spine; pages slightly cropped at edges (not affecting text); the binding rather tight; else a lovely copy of this genuinely scarce title.
First edition.
Farmer was a dissenting theologian and preacher at Salters' Hall, London. His writings were distinct from other theologians writing at the time in that he proposed that the temptation by the devil was an allegory; a prophetic vision as opposed to an actual event. He viewed supernatural evil as non-existent, but miracles in daily life as a reality, and these views evolved over time towards a belief in natural law having governance over real-life events.
This text was later revised in several editions with additional observations, but the first remains rather scarce.
#2110231