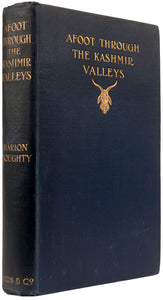 DOUGHTY, Marion. Afoot Through the Kashmir Valleys. London, Sands Company, 1902.
8vo. Original blue ribbed cloth, lettered and ornamented in gilt; pp. xxxii, 276, [3], frontispiece (in pagination), plates and text illustrations after photographs; light marking to cloth, a few gutters strengthened; a very good copy.
First edition of a first-hand account of a Britsh woman's wanderings through Kashmir, with interesting observations of everyday life and parctical hints for hill walkers in the country. Unfortunately we could not find out anything about the wandering lady, whose alternative name is given in brackets as Helton Mervyn.
#2107050