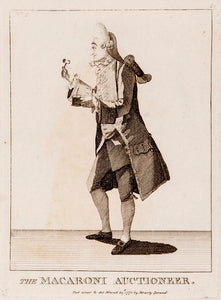 DARLY, Mary. The Macaroni Auctioneer.
An original etching printed by Mary Darly in March 1772. 220 x 140 mm. Numbered 'V.2' upper left and '21' upper right. BM Satires 5001.
Appeared in the album 'Caricatures, Macaronies & Characters by sundry ladies gentlemen artists &c.'
A man standing in profile with an auctioneer's gavel in his right hand, a taper or candle in a stand in his left. He is elegantly dressed in a laced coat, cravat, and ruffled shirt. He is Abraham Langford (1711-1774) of the Covent Garden Auction Rooms, the leading auctioneer of the day.
It is often claimed that Mary's husband Matthew made the plates although the exact dynamics of their working relationship are still unknown.
There was a small engraved portrait of Mary Darly in the Print Room of the British Museum; it is called "The Female Connoisseur" (February 1772). She is depicted examining a caricature sketch.
#2102917