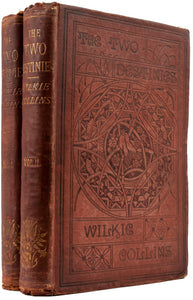 "Still the boy's face in the miniature pursued me. Still the portrait seemed to reproach me in a merciless language of its own: "Look at what you were once; think of what you are now!"
COLLINS, Wilkie. The Two Destinies. London: Chatto & Windus, 1876.
2 vols, 8vo; original red-brown cloth, blocked in black, gilt title to spine; Vol I pp.viii, 312; Vol II pp. iv, 304, 32, advertisements; cloth uniformly faded to brown, some bumping to head and foot of spine, otherwise a very good copy, largely clean with the occasional light smattering of foxing, ink inscription to front pastedown endpapers reading "Library, No. 54 Baker Street," with the bookplate of John Martineau to front free endpapers.
First Edition.
One of Collins' more supernaturally inclined novels, The Two Destinies describes a man and woman who find themselves drawn to each other over the course of their lives by a strange, telepathic link that manifests in striking intuitions and ghostly apparitions. The concept of destined lovers is not a new one to the modern reader, but allows Collins to indulge his penchant for the supernatural whilst not-so-subtly continuing his one-man campaign against established views of relationships and marriage, as the fated couple flee to Naples to escape the judgment of their peers.
#2104344