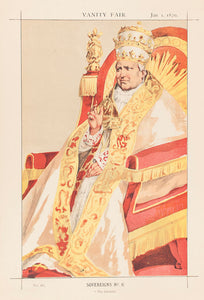 COIDE. Pius IX. "The Infallible."
Original lithograph from the 'Vanity Fair' series, published January 1, 1870. 365 x 245 mm.
Pope Pius IX (Italian: Pio; 13 May 1792 – 7 February 1878), born Giovanni Maria Mastai-Ferretti, was head of the Catholic Church from 16 June 1846 to his death in 1878. He was the longest-reigning elected pope in the history of the Catholic Church, serving for over 31 years. During his pontificate, Pius IX convened the First Vatican Council (1869–70), which decreed papal infallibility, but the council was cut short owing to the loss of the Papal States.
#2099128