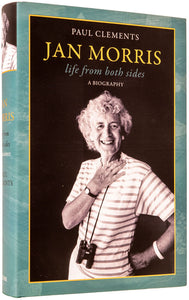 CLEMENTS, Paul. Jan Morris. Life from both Sides. London, Scribe, [2022].
8vo. Original boards with illustrated dust-wrappers; pp. [viii], 597, plates after photographs; new.
First edition, already the second printrun, after the first of 2000 copies sold out soon after publication. The magisterial and first full-length biography of one of the most important non-fiction (with two exceptions) writers of the second half of the 20th century and the beginning of the next.
#2116083