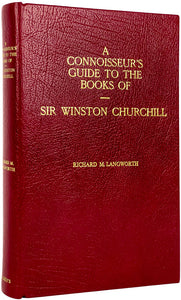 [CHURCHILL] LANGWORTH, Richard M. A Connoisseur's Guide to the Books of Sir Winston Churchill. London: Brassey's, 1998.
Royal 8vo. Full red morocco, spine and upper board lettered in gilt; gilt edges; marbled endpapers; pp. [vi], vii-xi, 372; presentation copy, with author's signature to front fly leaf; very light minimal rubbing to tips of corners, fine.
First edition, presentation copy, signed by the author to one of the front free endpapers. Just 50 of the presentation editions were produced, this being No. 40, dated '2 Sep '98'.
Langworth details Churchill's vast published texts, commenting on their value to both collectors and bibliophiles, and reminding readers of the British Bulldog's literary prowess as a winner of the 1953 Nobel Prize for literature.
"I never planned to be a 'historian'", Langworth writes on his website. "[But] sleepless in Harrisburg, I began collecting stamps and founded the Churchill Study Unit, to investigate Churchill commemorative postage, in 1968. Three years later it became the International Churchill Society, a broader organization for anyone interested (pro and con) in Winston Churchill, his life and times, and editing its quarterly, Finest Hour...In 1981 the doorbell rang and Winston Churchill was standing there (figuratively). I had dug out an old box of stamps and picked up his wonderful autobiography, My Early Life: exaggerated, egotistical and not quite accurate, but in Harold Nicolson's words, "like a beaker of champagne." I revived the Churchill Society, moribund since 1975, and produced a new issue of its journal Finest Hour. Little did I imagine that by this small club would morph into an institution dedicated "to fostering leadership, statesmanship, vision and boldness among democratic and freedom-loving peoples through the thoughts, words, works and deeds of Winston Spencer Churchill," or that Finest Hour would grow to 64 pages, or that I would survive 140 quarterly deadlines." (Richardlangworth.com)
In 1998 Langworth was awarded a CBE for services to Anglo-American understanding and the memory of Sir Winston Churchill.
#2115493