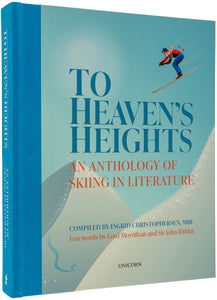 CHRISTOPHERSEN, Ingrid [compiled and edited]. To Heaven's Heights. An Anthology of Skiing in Literature. [London], Unicorn, [2021].
4to. Original cloth-backed illustrated boards; pp. 336.
First edition, first printing. To Heaven's Heights is an eclectic collection of ski stories from world famous authors from Ernest Hemingway to Garrison Keillor, by way of Ian Fleming, A.A Milne, Sylvia Plath and Bill Bryson. Spanning one thousand years and with contributions from over 60 authors, the anthology celebrates skiing as a means of transport, communication, hunting, exploring, and latterly as an Olympic sport and a leisure activity enjoyed by millions around the globe. With writings of accidents and avalanches, magic and mystery, these stories are for children and grown-ups, ski racers and armchair athletes. Proceeds from the book will go to Snow Camp, the UK's National Snowsports charity, giving young inner-city children the opportunity to experience the mountains and in many cases turn their lives around.
#2116225