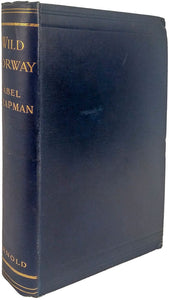 CHAPMAN, Abel. Wild Norway; With Chapters on Spitzbergen, Denmark, Etc. London, Edward Arnold, 1897.
8vo. Original dark blue cloth, spine gilt; pp. xiii, 358 [16. publisher's adverts. at rear), with a collotype frontispiece of "Reindeer Stalking" and 14 other plates by Charles Whymper, P. Ch. Trench, and the author, with wood-engraved and photographic illustrations throughout; very good.
First edition. 'One may have read in faithful Baedeker, a statement that one half of Norway lies at an elevation exceeding two thousand feet. Within that little fact are comprehended very large results. Those mural precipices that he sees are but the walls of vast table-lands stretching for twenty, thirty, it may be fifty miles, and even more, before another deep valley breaks their continuity. It is up here, on these glorious highlands, that the Norway of the hunter and stalker, of the sportsman, naturalist, and mountaineer is to be found. The people, it is true (and the salmon!), live down below in the valleys; but to see Norway, to realize what the word means, you must get on top - out on the roof!'
Schwerdt I p. 103.
#2100714