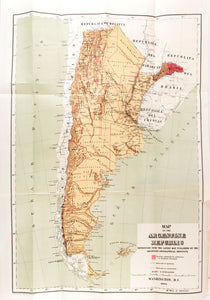 BUREAU OF THE AMERICAN REPUBLICS. Argentine Republic. ~i~Washington, [Government Printing Office], 1894.
8vo. Modern red cloth with morocco lettering-piece; pp. v, 182, [427]-455, large colour-printed folding map and plates after photographs and drawings; well-preserved.
This very rare handbook is bound without the appendices A to C, which probably had been maded redundant by the Baring crisis of the 1890s.
#2103431