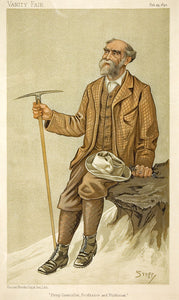 BRYCE, James, Viscount Bryce. "Privy Councillor, Professor and Politician" Feb. 25, 1893.
An original Vanity Fair print by H.C. Sepping Wright ("Stuff") from the "Statesmen" series (no. 609), in an acid-free mount ready for framing with the original text to verso.
The British jurist and statesman Viscount Bryce (1838-1922) found time, between his several ministerial and diplomatic appointments, to indulge his love of mountaineering.
#153842