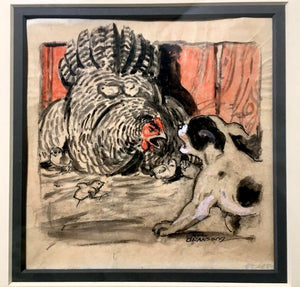 BRANSOM, Paul (artist) Original watercolour of puppy startled by hen and her chicks. No imprint or date.
Original watercolour painting by Paul Branson featuring a young barking puppy startled by a fearsome hen guarding her chicks, signed in full by the artist, image size 13 x 13cm, deeply double-mounted in grey and ivory mounts and presented in a matt black and gilt wooden frame; frame 31 x 31cm; in very nice condition with just a little insignificant wrinkling of paper to the righthand margin.
Paul Bransom (1885-1979) was an American animal artist, widely published book illustrator and cartoonist who is probably best known for being the first illustrator, in 1913, of Kenneth Grahame's classic of English literature, The Wind in the Willows.
#2111348