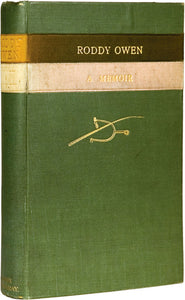 BOVILL, Mai and G.R. ASKWITH. 'Roddy Owen' (Brevet-Major Lancashire Fusiliers, D.S.O.) John Murray, 1897.
8vo. Original green cloth, green and pink silk bands wrapped round from front to rear covers (Roddy Owen's racing colours), gilt; pp. ix, 279, 3 portraits, 4 maps; racing colours faded on spine (as usual), small split to pink silk on upper joint, lettering on spine also faded, minor spotting internally, previous owner's bookplate, very good.
First edition. Owen rode the winner of the Grand National of 1892, "Father O'Flynn." Only a few days later he embarked for service in the Jebu campaign in West Africa. After service in Uganda and Unyoro, taking part in the expedition to Wadelai, he was dispatched to India. There he served in the Chitral campaign and in the Pamirs before leaving for Egypt in 1896, dying in that year of cholera on the Dongola Expedition.
#312057